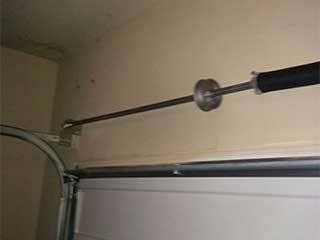 One of the leading causes for your garage door to stop working is damage to its extension or torsion spring. These are the parts of the system that hold the door in place when it is open part way. The spring is there to stop the door from closing or opening too quickly. If the spring snaps, your door will become unmovable. If you're having trouble opening or closing your door, the spring could simply need an adjustment. It's always best to let a trained professional handle these kinds off repairs as the springs can be incredibly dangerous and cause major harm if removed or installed incorrectly.
Call a Professional
Our technicians know how to remove and install all kinds of door springs as safely as possible. Garage door springs can hold huge amounts of tension in their coils and will release this pressure violently if handled improperly. Springs that are very old and have not been maintained frequently can also develop rust, weaken over time and eventually snap.
Broken Door Spring?
The spring will make a loud snapping sound when it breaks. You should never attempt to take out a garage door spring unless you have been trained to do so. Again, don't take the risk of injuring yourself or wasting money on the wrong replacement part by attempting to do this work yourself.
We know exactly which model of spring your garage door needs in order to get it back to full working order - we will remove your broken spring and install the most appropriate replacement for your door. Contact our team today if you think your garage door spring has broken and would like expert help in getting your door up and running again. Our experienced staff will ensure your spring is repaired or replaced both safely and effectively.
Looking for more? We also offer:
Garage Door Safety Inspections
Remote Opener Clicker Replacement
Torsion Spring Adjustment
Emergency Garage Door Repairs