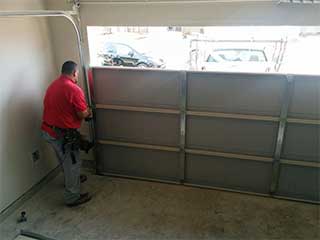 If your garage door doesn't function the way it should and you're in need of a reliable repair service, look no further! Our experience in handling the mechanical, structural, and aesthetical problems is what sets us apart from other companies in the industry. Regardless of the issue you are facing, we will have you covered. From installation of new units to regular maintenance and servicing, we will look after your door and make sure it operates seamlessly.
Damage to the Door
We understand that your garage door suffers under constant pressure in its everyday use and will eventually stop working. This could happen due to damage caused by general wear and tear over time or direct damage – for example if you accidentally drive your car into the shutter. Yes, it happens to other people too.
Analysis and Repair
Our job is to identify the cause of your malfunction and hopefully resolve it on the spot. We have a highly professional team who will provide you with a detailed report and is capable of, in most cases, getting the issue solved in one visit. This is due to our vast array of spare parts in the stock and the specialized knowledge of all our technicians.
Most Frequent Problems
The most common issues we face on a daily basis include spring replacement, cable repairs and new opener installation. These are the most frequent defects we are tackling in the field and account for most of our calls. However, you can count on us even if you have a more specific problem that needs addressing. There is very little we haven't seen in terms of the actual damage to the door. So, whatever your problem, we will make sure you are cared for promptly and rightly. You can also rest assured knowing we offer fair rates for all our servicing compared to other options on the market.
Affordable and Trustworthy Service
You should keep in mind that, when looking for any servicing company, a reliable choice is always the wisest, as it means longevity of your product. At Garage Door Repair Pleasanton, we take pride in providing you with such a service.
We also offer the following services:
Part Replacement & Repair
Opener Sensor Replacement
Garage Door Cable Replacement
Roll Up Garage Door Services