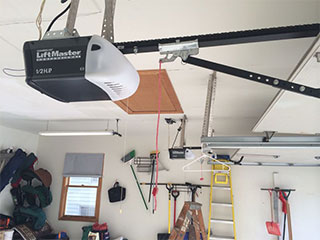 Due to the many moving parts involved in their operation, garage doors can suffer from several different problems during their lifetimes. The best way to make sure your door stays in an optimal condition for as long as it possibly can is through routine maintenance performed by professional technicians.
The best way to stop accidents from happening is to make sure you're taking all the preventive measures that you can. Whenever a complex machine is involved, there needs to be some routine procedures that ensure it stays safe to operate.
Inspection Leads to Prevention
The rollers, the cables, the springs, and even the tracks; every part that's involved in your garage door movement needs to be closely examined for the accumulation of wear and tear damage. The cables, for example can become frayed, which means they could potentially break. This can be extremely dangerous, as it could lead to your door panels collapsing. A careful inspection of the opener's various parts is just as important. Making sure the safety sensors are correctly aligned and are functioning properly is incredibly crucial, as the safety and well-being of anyone who uses the door depends on them being in an optimal condition. Our specialists will be able to address any discovered issue on the spot, and thus prevent it from developing into a large scale problem.
Lubrication Ensures Optimization
The rollers, the hinges, the tracks, the springs; these are all parts that could greatly benefit from being regularly lubricated. Their performance will see a tremendous improvement after our specialists finish taking care of them, and their ability to perform smoothly for a longer period of time will also be positively affected.
Call Us Today
Contact our experts at Garage Door Repair Pleasanton to schedule a maintenance appointment. We'll make sure your door stays in a perfect working condition for a long time to come.
Couldn't find what you're looking for? We also offer:
Garage Door Tune Up Services
Screw Drive Opener Replacement
Oil Tempered Torsion Springs